(I don't know why my PC cannot be for Japanese! I'm in panic!!!)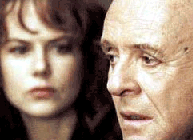 If we need someone in life, something like a magnet power may work as it has done for Faunia(Nicole Kidman) and Coleman(Anthony Hopkins)in their tragic reality. In the attraction of humanity -specially for men and women-, we see the deep impression in each of us. Today, people call it CHEMICAL!!
First, Faunia has found it in Coleman. It was the Human Stain. It was not just the common chemical works to fall in love, I believe.
She might feel it was even deeper than any terrible tragedies she got.
I have to say Faunia's history must be one of the worst examples of women's life. These tragedies were brought by her fate or rather people like her ex-husband and step-father. She has been living alone with many deep stains.
In Coleman's case the stain was caused from his decision and the racism in society. The decision has imprinted the deepest stain in his identity. This film doesn't tell much about the racism in himself.( I should read the book by the author Philip Roth.)
He could not escape from it in the rest of his life.
And at last of his time, he met Faunia who let him be able to tell the secret of his persona.
I think that to live with a total false personality have to be the most difficult state with our mind.
And somehow I also live with a mask pretend to be another person often for following an influence and a situation.
This story is based on such a shocking theme faces today's problems of us.
Of course, in U.S. some of the serious matters are very common much more than we Japanese imagine.
Joe says, one of his good friends died in prison.
The guy was a veteran of Vietnam War. The war made him crazy just like Faunia's ex-husband.
Another friend was married an African American girl and they had to move to New York for their safer life. Living in places in countryside like in this film is severe for the people, EVEN TODAY!!
In a place I stayed in CA, a man was killed several years before.
Actually the floor I was sleeping was just the site the body lay down!! It was a mad murder! But very usual, sad to say.
Too many problems in U.S. like these give the huge frustration to people. As the result, we can't take a walk in a quiet local town even in the daytime.
Always I listen to Joe says America has to be the last choice for us to live even he has so many friends there.
This is the world we live in!
If we face this reality, we know this film is not just a shocking fiction.
We need somebody in life.
When we share each other's background, history and beliefs, we can be free from some parts of the great pressure.
PERSONA on our face should be off sometimes.
Now, I thank Joe has found me in this world(!!??)
***Joe didn't know the bad meaning of the word SPOOK. As Coleman said in the university, English say this word only for GOAST and meaning as FRIGHTEN. Meaning for NIGGER must be an American slang.
Using words in this way is terrible, of course. But the problem is not the word. The famous scandal of President Clinton had the same situation for the concept of the word SEX in a different way! It's a interesting idea to add the scandal in this story. Ironic!!